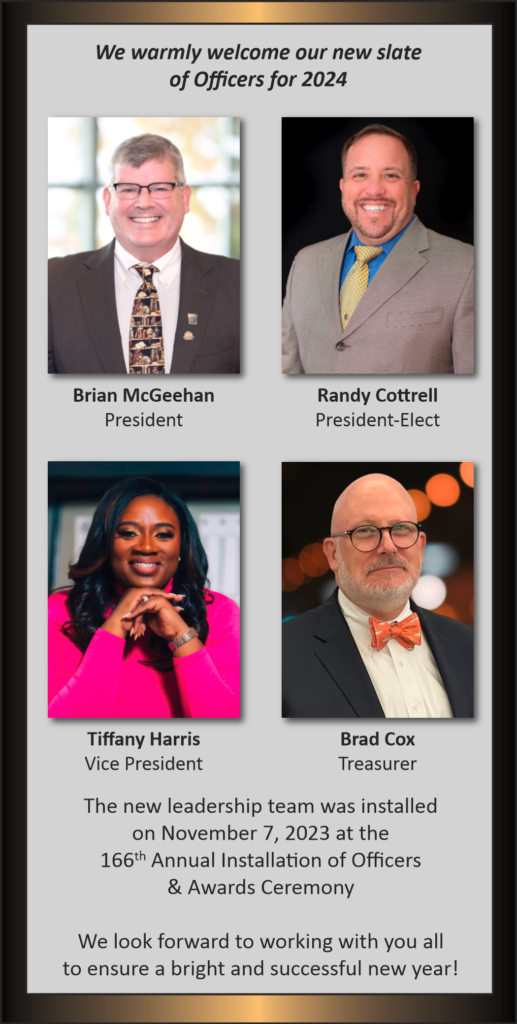 Brian McGeehan Named President
Patricia Kallmyer Honored as REALTOR® of the Year
The Greater Baltimore Board of REALTORS® (GBBR) announced recently that Brian McGeehan will lead its board of directors as president for 2024, during their annual Installation of Officers and Awards banquet event, held at the Martin's Valley Mansion in Cockeysville. GBBR also appointed Randy Cottrell as president-elect, Tiffany Harris as vice president, and Brad Cox as treasurer.
GBBR honored Patricia Kallmyer as its 2024 REALTOR® of the Year, in recognition of her outstanding commitment to the profession and to the community. In additional award presentations, Lovelle Pierre received honors as the Distinguished Sales Associate of the Year, while Alonna Davis was presented the Rising Star Award. Shawn Goldfaden was named the Affiliate of the Year.
Also at the ceremony, GBBR announced the addition of Wayne Curtis, Jason Hall, Linda Harned, Robin Hess and Tunisha (TC) Temple to a two-year term on its board of directors. Serving a one-year term, will be Anisha Berkley, and Jennifer Cernik was appointed to the Executive Committee.
As president of GBBR, Mr. McGeehan will spearhead the organization's mission to promote ethical and professional standards in real estate sales and law through professional training, continuing education, community outreach and arbitration services. At the GBBR headquarters, he participates in a multitude of capacities, including serving on the Executive, Budget & Finance, RPAC/Political Affairs, Forms and IDEA (Inclusion, Diversity, Equity & Accessibility) Committees.
About the Greater Baltimore Board of REALTORS®
Founded in 1858 as the Baltimore Board of Real Estate Brokers and Property Agents, the Greater Baltimore Board of REALTORS® (GBBR) was the nation's first real estate board. A founding member of the National Association of REALTORS® and the Maryland REALTORS® association, GBBR has strived to promote the highest ethical standards and professional practices in the real estate industry for more than 165 years.
GBBR serves nearly 5,000 members in the Greater Baltimore area. GBBR provides training, public and professional education classes and workshops, arbitration and mediation services, and works in the legislative and regulatory arenas to assure that laws and policies benefit its members and preserve property owners' rights.